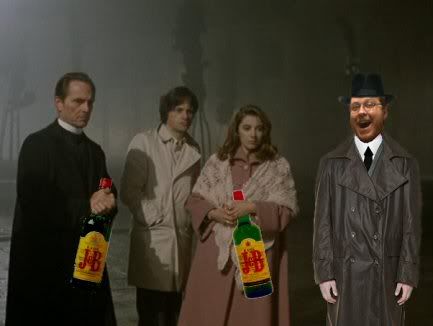 I am returning to the land of the giallo once again to prove once and for all that… I own a shitload of these dang movies! But I ain't braggin'. At the end of the first Giallo Meltdown, I was a gibbering mass of failure. And by the end of Giallo Meltdown 2, I was less gibbering and more successful. However, it was painfully obvious to me that a third Giallo Meltdown was very necessary.
This time around, I'm bending the rules a bit. Fulci and Argento are now allowed to enter the arena. Since there are some titles of theirs that have crept into my collection since Argentophobia and Doomed Fulci-Thon took place, I have elected to allow the big boys to get in on the fun. Initially, I didn't want Bava, Fulci, and Argento involved so that the other masters such as Umberto Lenzi and Sergio Martino could have their chance in the spotlight.
Speaking of Mario Bava… I am still editing BAVADOOM which will be up in the next few weeks (meaning months). The editing of The Chowdown was very time consuming and pushed BAVADOOM back a bit. Excuses, excuses, excuses! Once BAVADOOM is up then I'll get to work on Giallo Meltdown 3 (unless it is a horrible disaster!) and then I'll be taking a little break from moviethons for a while. Don't worry, I'll still be all up in this here blog and writing reviews for Doomed Moviethon. My main focus right now is a book project which will be taking up most of my free time so I will be letting the moviethons rest for a bit. However, the best and greatest moviethon of all time is still to come.
Giallo Meltdown 3: The Playlist (not in order)
The Frightened Woman
Door into Darkness
Liz & Helen
Amuck!
7 Murders for Scotland Yard
Delirium: Photos of Gioia
Bad Inclination
Watch Me When I Kill
The House with the Laughing Windows
Phantom of Death
Spasmo
The Card Player
In the Folds of the Flesh
Crimes of the Black Cat
Knife of Ice
Perversion Story
Short Night of Glass Dolls
Some trailers: